Superwind Wind Turbines
Superwind 350 - a small wind generator for professional applications. German designed and built micro wind turbine. Uses blade pitch control to regulate the rotor speed. Made for the marine environment with high quality stainless steel. The electric power generated by Superwind charges batteries and can be used directly for 12V or 24V appliances.
---
Superwind 350 Wind Turbine
The Superwind 350 is a small wind generator for professional use, which even under extreme conditions works autonomously and automaticly. Rated at 350 watts, this unique German designed and built turbine uses blade pitch control to regulate the rotor speed. It is often used on sites where there is no grid available. Typical applications include Sailing Yachts, Navigational Aids, telecommunications, remote cottages and mountain huts. A combination with solar arrays is without problems.
Superwind SW 12V/24/48V 350W wind turbine
Price: $3,180.00
FEATURES:
Nominal power - 350 W
Nominal wind speed - 12,5 m/s
Nominal voltage - 12 VDC / 24 VDC
Cut in wind speed - 3,5 m/s
Cut off wind speed - none
Rotor diameter - 1.2m
Rotor speed - 500 - 1300 rpm
Generator - permanent magnet
Nominal voltage 12 VDC / 24 VDC
Speed regulation - rotor blade pitch
Weight - 11.5kg
Rotor thrust (operation) - 70 N
Rotor thrust (extreme wind speed) - 220 N
3 Year Warranty
DOWNLOAD PRODUCT SPECIFICATIONS
Note: An external rectifier/regulator is required and is not included with this item. Please see price below.
Superwind marine grade regulator SCR 12/24V
Price: $925.00
FEATURES: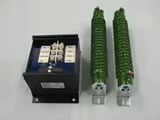 SCR 12 V Marine
Nominal Voltage - 12V
Charging Voltage - 14.2V
Max. current for dump loads - 40A
SCR 24 V Marine
Nominal Voltage 24V
Charging Voltage (default): 28.4V
Max. current for dump loads- 20A
The SCR Marine charge regulator has been especially designed for the Superwind 350 wind generator and guarantees optimum charging of the batteries. The secondary function of the SCR Marine is to electronically keep the wind generator under load. When the batteries have reached their maximum charging voltage, the SCR Marine´s PWM circuit automatically diverts the wind turbine´s surplus power to the dump resistors. The SCR Marine is suitable for lead acid batteries, gel batteries and AGM batteries (AGM = Absorbed Glass Mat) and has temperature compensated charging characteristics. For special applications, the maximum charging voltage can be adjusted to customer requirements. The charge regulator SCR Marine is completely sealed and effectively protectet against the marine environment. It has two separate outputs, which can be used to charge two battery sets separately (eg. starter battery and service battery on a yacht).
3 Year Warranty
Prior to planning a wind installation you should study meteorological information pertaining to your area. In Australia this is available from the Bureau of Meteorology.
The average wind speed needs to be above 5m/s (18km per hour) to make installing a wind turbine worthwhile.

Your wind installation site should be:

• free from obstructions in the direction of the prevailing wind
• as elevated as possible
• safe from spectator contact
• in an area that receives wind often enough for benefit to the power system
---

Prices include freight to nearest regional centre in Qld.
Freight cost to outlying areas is extra.
All prices are in Australian Dollars inclusive 10% GST.
All prices are subject to change and should be confirmed before ordering.
Back to top of page