Remote Power Systems
Remote power systems are a great alternative for many people in rural areas faced with a large connection cost to the main electricity grid, or as an alternate from running a diesel generator. Remote Area or Stand Alone Solar Power Systems operate independently from the main electricity grid, the energy collected from the solar panels is usually stored in battery banks, typically at 5 days storage, and so reliable and continuous power is available 24 hours a day.
HOW A REMOTE POWER SYSTEM WORKS
The solar power is generated by solar panels that can be fixed to a building's roof or on a purpose built solar array frame. The electricity is then fed into a bank of deep cycle batteries via a regulator or power controller, to be stored for use when required. The power can then be used directly from the batteries with DC appliances, or converted to mains 240 volt alternating current AC electricity by a stand alone inverter. The standalone inverter delivers mains quality 240 volt electricity, so normal household appliances including power tools can be used.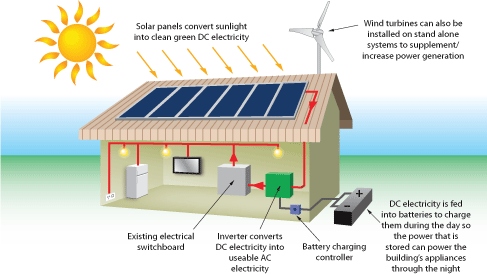 SYSTEM COMPONENTS
Solar Panels
Regulator/ controller
Deep cycle batteries
Inverter
Switchboard
Meters and circuit breakers
Installation and commissioning
System Manual

CHOOSING THE RIGHT SIZE SYSTEM
The size of the Stand Alone Solar System you install is only limited by budget and space for your solar panels. Systems are measured in terms of the generating capacity (kW), battery
size (voltage & amp-hour capacity) and Design Load (kWh / day).
SYSTEM SIZES AND COSTS
The cost of the system is dependent on system generating capacity, ease and location of installation and to a great extent the quality of the components you install.
Some factors to consider:
• Types & power rating of electrical appliances (watts)
• How many hours per day they are used
• Your location - amount of solar energy available at your site
RENEWABLE ENERGY CERTIFICATES
A renewable energy certificate (REC) is a commodity in the REC market. RECs are created by eligible parties and sold to liable parties via the REC Registry to meet their liability under the RET.
You are entitled to create them when purchasing solar panels, wind turbines, solar hot water services and hydro. The Australian government has launched The Solar Credits program which is based on the Renewable Energy Certificate system, but with a certificate multiplier incentive offering up to 5x the usual number of RECs issued for solar power systems up to 1.5kW.
ECONOMIC BENIFITS
Although the up-front cost of these systems can be high, Stand Alone Solar Power Systems are a very cost effective solution for rural households or businesses faced with a large connection cost to the main electricity grid or high diesel costs to run their generators.
BE ENERGY EFFICIENT
Do NOT use electricity to power greedy appliances such as electric hot plates, ovens, electric hot water heaters, air conditioners & large incandescent light bulbs.
Solar &/or gas water heating, gas cooking, high efficiency light bulbs, good insulation & home design will help to minimise your electrical power load.
WARRANTY ON SYSTEM
All warranties offered with equipment
Workmanship - 24-month warranty (installer)
---
For a formal quote contact Max Enfield